| | |
| --- | --- |
| General Adhesives Catalog | |
| Cyanocrylate Catalog | |
| Epoxy Catalog | |
| Epoxy Flush Catalog | |
| Epoxy Putty Sticks Catalog | |
| Other Chemicals Catalog | |
| Polyurethane Catalog | |
| | |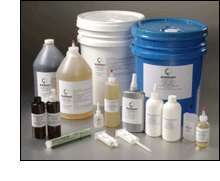 Glenmarc completes your application needs by offering a full line of potting epoxies, adhesive epoxies, repair epoxy putty sticks, epoxy and polyurethane coloring pigments, polyurethane cast resins, cyanoacrylate and anaerobic adhesives. Contract filling services, custom formulations, and private labeling available.
Glenmarc uses only the top ISO9002 suppliers of resin and hardener base chemicals from companies such as Shell Chemical, Hexion, and BASF. Glenmarc developed its epoxy and polyurethane materials with meter/mix/dispense automation in mind. All Glenmarc formulas have been run successfully on their line of meter/mix/dispense equipment. With Glenmarc's line of epoxy and polyurethane materials you will be guaranteed an easy start up with no surprises. Glenmarc has been supplying its resins and hardeners to many of the industry giants since 1968.
Glenmarc has vast experience in the meter/mix/dispense applications for encapsulating electronics. We have over the years developed proprietary formulas in epoxy and polyurethane materials. We have on many occasions supplied complete "turn key" potting lines including machinery with supplying and responsibility of potting materials.